The FDME : A national federation of associations of wholesale distributors of electrical and electronic supplies.
Magelec is a member of the FDME (La Fédération nationale des syndicats de Grossistes distributeurs en Matériel Électrique et Électronique). Founded in 1938, it includes 13 regional associations and 2 national associations, S.P.D.E.I. (professional electronics) and SIGREM (household appliance specialists).
It represents more than 80% of the distribution of professional electrical supplies in France.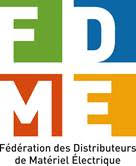 The FDME is made up of a diverse mix of international companies, groups, networks and independent businesses. In France, more than 80% of electrical supplies and HVAC systems are sold at sales outlets operated by FDME members.
FDME's professional distributors and wholesalers provide effective, high-quality services to installers, local communities, industrial sector professionals and other users, while promoting innovative solutions and products that are in compliance with all applicable standards.
The FDME's main role is to assist member associations in outlining, promoting, advancing, and defending the interests of their members, valuable contributors to their respective industries.
Principal upstream relationships include :
F.I.E.E.C. – Fédération des Industries Electriques, Electroniques et de Communication (a federation of electrical, electronic and communications industry professionals) : www.fieec.fr
G.I.M.E.L.E.C. – Groupement des Industries de Matériels d'Equipement électrique et de l'électronique industrielle associée (a trade association for electrical and industrial electronics supplies companies) : www.gimelec.fr
DOMERGIE – An association of professionals in the electrical equipment and home automation industries.
SYCABEL – An association of cable manufacturers www.feder-eclairage.fr, an association of lighting professionals
Downstream relationships include :
F.F.I.E. – Fédération Française des Installateurs Electriciens (a French federation of electricians and contractors) : www.ffie.fr
S.E.R.C.E. – Syndicat des Entrepreneurs de Réseaux et de Constructions Electriques (an association of entrepreneurs in the network and electrical engineering industries)
C.A.P.E.B. – Confédération de l'Artisanat et des Petites Entreprises du Bâtiment (an association of artisans and small businesses in the building industry) : www.capeb.fr
F.E.D.E.L.E.C. – Fédération des Electriciens (a federation of electricians) : www.fedelec.fr
Partnerships :
E.D.F. (Electricité de France) : www.edf.fr
PROMOTELEC : www.espace-elec.com/promotelec
C.F.E. (Centre Francais de l'Electricité) : www.espace-elec.com/cfe
For more information, visit the FDME web site