About "Le Cercle SOCODA"
As part of SOCODA, Magelec participates in the network's exclusive loyalty program, "Le Cercle Affaires & Loisirs", to reward our clients' loyalty and trust.
Earning Cercle Points
Each time you make a purchase through a SOCODA professional distributor, you automatically earn Cercle points : the more purchases you make, the more points you earn.
These points can be used anytime, and are valid for 2 years starting from the end of the year in which the points are earned (For example : points earned in 2005 are valid until December 31 2007 inclusive). Every 2 months, you will also receive a statement indicating the number of Cercle Points you have available for use.
You can also connect to www.moncercle.com any time to consult your point balance.
A Wide Range of Gifts and Travel Opportunities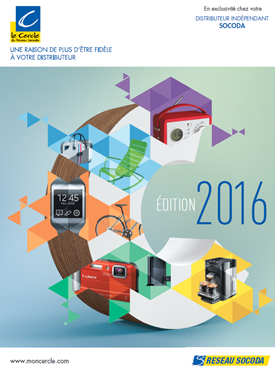 With a catalogue of more than 750 unique and original gifts, "Le Cercle de SOCODA" makes it easy to treat yourself or your loved ones. This catalogue can be viewed online at www.moncercle.com.
To receive your gifts, simply :
Looking for a getaway?
We can help with that! Whatever your destination, trip length, or number of people, Le Cercle's travel agency will provide you with all the assistance and information you need to plan your dream trip.
To order, simply contact Le Cercle's travel agency at 0 810 600 147 (cost of a local call from France).
More Exclusive Benefits
Le Cercle offers a variety of different services designed to simplify your daily tasks. This includes free and unlimited access to a legal information service.
Throughout the year, Le Cercle also features exceptional offers that will allow you to discover new and interesting services.
> For more information about Le Cercle